Skip to Content
Professional Pool Cover Installation in Salt Lake City, UT
Learn About Our Pool Safety Cover Installation Process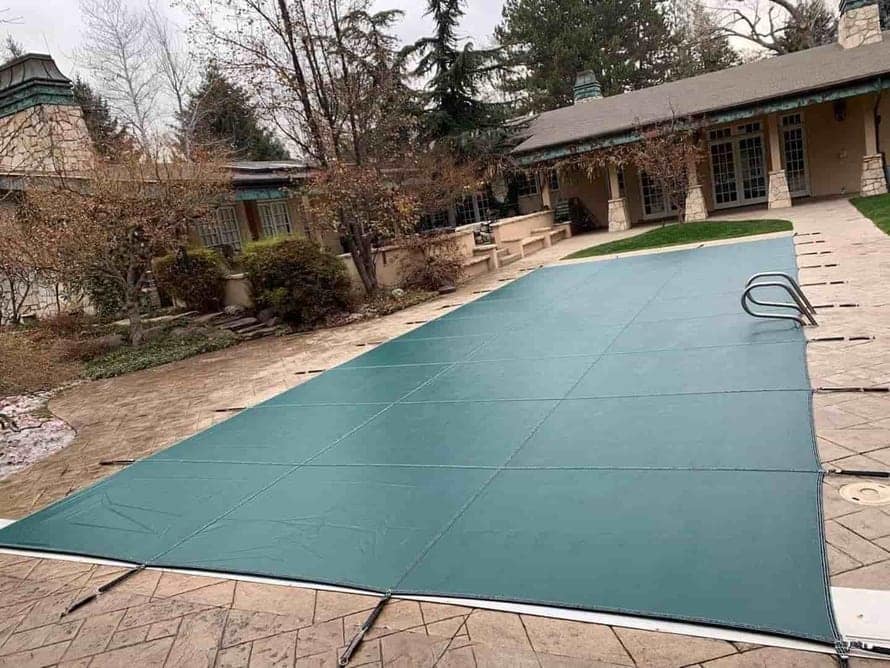 Utah Covers has become known for being a leader in reliable and high-quality covers for pools, spas, and hot tubs in Salt Lake City, UT. We offer professional pool cover installations so you can take advantage of their benefits. We can add a cover to your existing pool or install an automatic pool cover for your new pool construction project. Our experienced team of pool cover installers offers a wide selection of pool cover and color choices. Choose from automatic pool covers, winter covers, and hot tub and spa covers in many attractive colors. We're here to inform you about our pool cover installation process as well as the benefits of installing a pool cover. Learn more, and then get in touch with us to get a quote.
Our Pool Cover Installation Process
The skilled team at Utah Covers can install pool covers for new pool construction and existing pools. We have our pool safety cover installation process down to a science so you can start enjoying the benefits of your pool cover in no time at all. Learn more about our pool cover installation process for both new and existing pools:
New Pool Construction – Our team can work with you and your pool builder. We'll determine the ideal design for your new pool construction cover. We install automatic pool covers that are fully customizable. You'll be able to choose from a variety of colors and features that match the aesthetic of your outdoor living space. We would be happy to go over your options with you to help you create your ideal automatic pool cover setup.
Existing Pools – Allow us to add a pool cover to your existing swimming pool in Salt Lake City, UT. For existing pools, our team can install a pool cover that uses deck-mounted tracks to guide an automatic pool cover. Your options include having the mechanism housed on top of the deck or recessed below it, depending on existing construction. Just like with our new pool construction cover installations, we would also be happy to go over all your options with you to determine the best pool cover for you.
The Benefits of Pool Cover Installation
If you haven't considered having a pool cover installed, you'll want to learn about all the benefits it provides:
Safety – Keeping your family safe should be your top priority. While swimming pools and spas offer relaxation and enjoyment, they can also be safety hazards for young children or pets. A pool cover prevents unplanned access to the body of water, preventing accidental drownings. While supervision is still recommended, a pool cover is an excellent safety barrier.
Cleanliness – A pool cover can make your swimming pool more hygienic. Pool covers block out the sun's UV rays, which feed algae. Covers also prevent leaves, debris, and dirt from accumulating in your swimming pool. Having a pool cover can dramatically reduce the amount of time you spend cleaning your pool.
Convenience – In addition to keeping your swimming pool clean, a pool cover is also convenient. You'll save time skimming your pool and reduce operational costs as well as wear-and-tear on your pool's filtration system. Keeping your pool covered cuts down on pool maintenance. You can protect your pool year-round in this simple way.
Return on Investment – If you're hesitant on a pool cover because of the cost involved, you should consider the full picture. Pool covers offer an excellent return on investment. By reducing evaporation, your cover helps to conserve water while reducing the use of chemicals. Combined, this can save you up to 70% on pool operating costs. Keep the heat in and the dirt and debris out of your pool to reduce maintenance costs.
Water Conservation – You might be surprised to learn that an uncovered 16 x 36-foot swimming pool can lose up to 180 gallons of water every week due to evaporation. That means a lot of those expensive cleaning chemicals are disappearing as well. One pool cover can help to conserve hundreds of millions of gallons of pool water every year. That not only preserves our planet's most precious resource but also saves you money.
Offering Multiple Types of Pool Covers & Color Choices
Utah Covers offers many types of pool covers available in beautiful color choices. Our team can install a trusty automatic pool cover or a durable, high-quality winter cover for your hot tub. We install spa covers, winter covers, automatic pool covers, and more. Our color options include navy blue, royal blue, light blue, beige, brown, forest green, light gray, charcoal, and more. Check out our pool cover color choices page to learn more.
Get in Touch with us Today
When it comes to pool and spa cover installation, you could say that Utah Covers has you covered. Our pool and spa cover professionals can visit your home anywhere in the Salt Lake City, UT area. We have a wealth of experience in the field and also offer pool and spa cover repair, maintenance, and cleaning services. Our team uses superior products and provides excellent customer service every time. If you're unsure about the hot tub cover installation process or pool cover benefits, we would be happy to schedule you for a consultation with one of our specialists. Contact us today to get started.