Skip to Content
Hot Tub & Spa Covers in Salt Lake City
Durable Spa Covers In Utah
At Utah Covers, we pride ourselves on our personalized and customized service. We are here to provide you with your entire spa cover repair, maintenance, and cleaning services. With our large variety of spa and hot tub covers that fit most brands and models of spas and hot tubs, we are sure to have the ideal fit for your product. We are committed to fitting and installing your spa cover perfectly and are able to customize your cover according to your hot tub's dimensions and size.
We provide three different types of durable and high-quality spa covers at Utah Covers, including standard, deluxe, and extreme covers. Depending on your needs and climate, our expert team is able to help you choose the perfect spa cover for your hot tub or spa. To find out more about our spa cover products in Salt Lake City, please read below.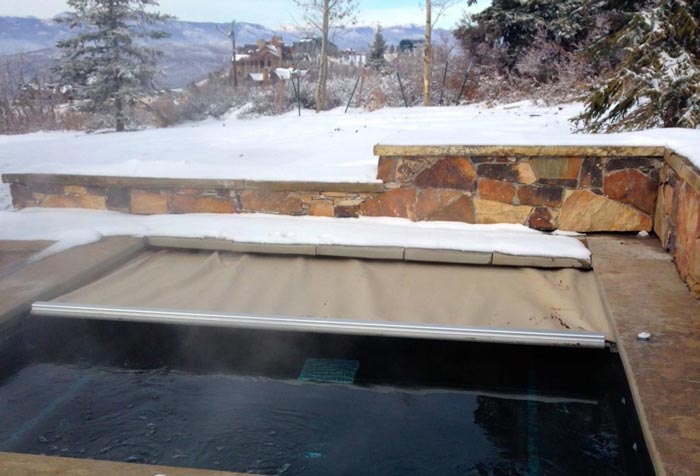 Our Spa Covers
Deluxe: This cover is 5 inches thick in the middle and 3 inches thick on the outside edge and is our most popular spa cover. This cover is suited for any climate and environment, is lightweight, and cuts down your heating costs. Our deluxe cover comes with four locking straps, ensuring safety in your outdoor area.
Extreme: For colder climates, the extreme spa cover is perfect for snowy and wintery weather. This spa cover is thicker, in order to hold the weight of snow. To find out more about our winter covers, please click here.
Standard: These covers are 4 inches thick in the middle and 2 inches on the outside edge of the cover. This is the perfect cover for warmer climates and environments like Florida, Texas, or California. Our standard cover is also a good option for indoor heated hot tubs, and they are lightweight, retain heat and moisture, and keep unwanted debris out of the tub. This cover also comes with four locking straps to ensure your children's and pet's safety.
Almond
Amaretto
Ash
Forest Green
Lt Grey
Pacific Blue
Rawhide
Walnut
Mocha

Protect Your Spa With A Spa Cover
To save on energy costs, maintain your hot tub, and provide safety, spa covers are a wonderful investment for your spa or hot tub. With the many types and brands out on the market today, we understand that it can be challenging to know which spa cover is best for you.
When you work with Utah Covers, you can rest assured that our experts will provide you with all the information that you need to choose the ideal spa cover. Contact us today and trust that our experienced professionals will help you to choose the best spa cover for your hot tub.